In the middle of the unique holiday landscape of the "Voralpenland", Ravensburg invites you to a stay full of variety and experiences.
In the historic old town of Ravensburg you can stroll, experience history and culture or simply relax. Lake Constance, Allgäu, Bregenz… – Ravensburg, the centre of the Bodensee-Oberschwaben region, is the ideal starting point for excursions into the surrounding area.
Of course, we can only present a fraction of the possibilities of this city and the surrounding area here. But we may be able to give you a first impression, the experience is entirely up to you…

Ravensburg - City of towers and gates
The many towers of the former Free Imperial City of Ravensburg can be seen from afar. Two of the medieval city towers can be climbed by visitors today.
Exploring the towers can be wonderfully combined with a stroll through Ravensburg's beautiful historic old town. If you don't want to get to know the city on your own, you can take part in one of the themed city tours.
You can find out more about the city's history and historical sights here.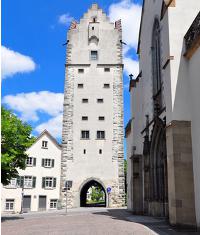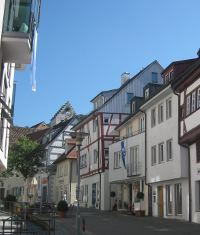 Ravensburg - City of Games
Ravensburg is known worldwide for its children's books and games. Whether it's the Ravensburger Publishing Museum in the old town or the Ravensburger Spieleland just a few kilometres south of the city – everything in Ravensburg revolves around playing.
Ravensburg - cultural offerings
Whether it's the Municipal Gallery for lovers of the fine arts, the concert hall and the Zehntscheuner cabaret stage for theatre and concert enthusiasts, or museums such as the Humpis Quarter or the Fire Brigade Museum – Ravensburg also offers its visitors a wide range of cultural activities.
>> Learn more here
Do you have any questions or would you like to reserve a room?