Excursion destinations & more
Do you want to explore the nearby Allgäu or spend a quiet day at Lake Constance? Ravensburg is the ideal starting point for excursions into the beautiful and varied surroundings.
We have put together a few of the most popular excursion destinations for you below. On request, we will of course also be happy to help you personally with your individual route planning.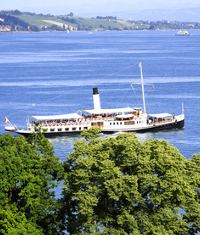 Lake Constance, Mainau Island and Reichenau, Rhine Falls in Schaffhausen
Upper Swabian Baroque Road with the basilica town of Weingarten
Appenzell foothills with the Säntis Railway
Festival town of Bregenz with the "local mountain" Pfänder
Upper Swabian brewing tradition presented in the Tettnang Hop Museum and the Beer Mug Museum in Bad Schussenried
Adventure days for young and old at Ravensburger Spieleland
Pile-dwelling museum in Uhldingen, poetry town of Meersburg
Constance and Zeppelin home in Friedrichshafen
Salem Castle with the Monkey Mountain in the immediate vicinity
Alpine landscape of Voralberg
Lindau and Bregenz casinos
For city enthusiasts, day trips to Zurich, St. Gallen, Oberstdorf, Ulm, Stuttgart or Munich are worthwhile.
Have you not yet discovered something suitable for you? We will be happy to advise you personally on your individual excursion planning.
Do you have any questions or would you like to reserve a room?